Safe Accessories - Pella Security - Iowa Custom Gun Safes
For options regarding pistol racks please visit our pistol racks page.
Hinge Caps
Beautiful stylish hinge caps in gold or chrome can be added to the hinges of your safe to give it an attractive and unique look.
Vault Pedestal
Increase the access height of your vault by five inches with this sturdy carpeted riser.
Electronic Dehumidifier
Rods work by slightly increasing and stabilizing the air temperature inside the safe. When positioned at the low point in the safe the heat will radiate up through the safe. All safes are pre-drilled for this option.
Interior LED Lighting System
This unique LED lighting
system is mounted along the inside of the door jamb to illuminate all corners of your safe.
Sergeant & Greenleaf Electronic Digital Lock
These electronic locks provide the same security features found in combination locks. The telephone type keypad allows you quick and easy access to your safe. (Factory Installed)
Sergeant & Greenleaf Biometric Lock
This unique keypad adds a new level of security by letting the user select the amount of security the safe can be opened with
1. Finger print only
2. Fingerprint and pin code
3. Pin code only
Designed for easy programming, adding or deleting of fingerprints (up to 9). LCD screen on keypad guides user throughthe process.
Door pocket organizers–
– Secure and organize a variety of small valuables or documents
– Available in mesh or solid pocket
– Velcro backing holds firmly and allows placing where desired
-Organizer dimensions 9.5"x6"
HANDGUN SECURITY VAULTS 
A secure storage solution for handguns and other valuables at home or in the car. Designed to provide an additional level of security for conceal carry permit holders. Can be secured to any flat surface. Heavy-duty 43" 1500 lb. steel cable included for securing to stationary objects (ultra compact model does not include cable).
Meets TSA airline guidelines Certified California DOJ approved
Three sizes available
– Large Handgun Vault Dimensions 6.5"wide x 10" high x 2" deep
– Compact Handgun Vault Dimensions 5.75"wide x 8.5" high x 2" deep
– Ultra-Compact Handgun Vault Dimensions 6.5"wide x 5.1" high x 1.6" deep
WIRELESS HYGROMETER
Wireless sensor
Displays temperature and humidity for inside vault and outside room
Easy to read LCD display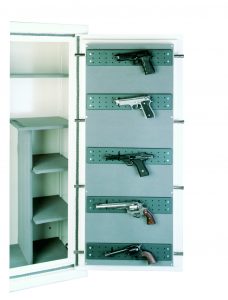 DOOR MOUNTED PISTOL RACK-
Convert the back of your door to allow for easy access of handguns and accessories. Accepts standard 1/4" board hooks (hooks not included).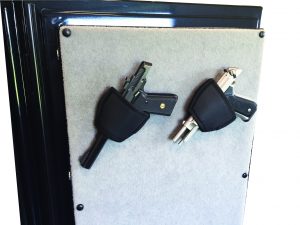 Handgun Door Holster–
Fits most handguns
Velcro backing holds handguns securely and allows placing where desired
Interior Steel Liner For Extra Added Protection 
An interior 12-gauge steel liner can be added to any safe. This adds an extra layer of protection that a would-be burglar would have to penetrate. Think of it as a safe within a safe.
Fire Liner Upgrade
Double your fire insulation for the Pro Series for a 1500 degree 130 minute fire rating.